Pariksha

This is an application which makes the user learn time management when attempting Common Entrance Tests ( CET ). This application consists of a a large structured database of Multiple Choice Questions ( MCQ ), along with the Key. The user can select the Subjects, Chapters, and Time analysis of Exam, Negative marks and the total number of questions to be answered. The results of the Exam written gives the SWOT ( Strength, Weakness, Opportunities and Threats ) analysis for reducing stress. >>more details
---
ICMS

This is an enterprise solution for the academic and financial administration of an educational institution and has a scalability to integrate the data of various colleges to a central server for instant communication, to bring all the colleges under a Virtual Private Network .
---
Loom Matrix Designers

This application converts any digitised image in the form a matrix acceptable for loading on to a loom for producing designs on a cloth.
---
S-mart

This is an application developed for the automation of the billing, inventory and accounts of a Super market Chain with outlets and a warehouse. This application is an integrated data management system of the entire super market, linked to barcode readers etc.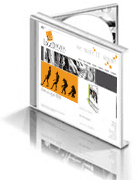 Vaignanic Series
Collection of edutainment cds for sustained knowledge needs of a common man.
If you are interested in Buying or seeing the demo of our products, please feel free to Contact Us.
We will be prompt to reply back.